The very foundation of warehouse automation
The rapid spread of robotization and warehouse automation as well as the emergence of "Last Mile" solutions have also posed new challenges for the builders and operators of warehouses and logistics centers in the field of industrial floor levelness and flatness accuracy.
Automated warehouse systems and solutions
Our company offers tailor-made, real assistance in the design of industrial floors for self-driving forklift trucks (AGV robots, systems), self-propelled robotic systems (AMR or AGV) and "box" warehousing (AutoStore systems).
The design of all the above-mentioned systems always requires specific solutions for the industrial floor. This is true even if the designers specify flatness thresholds for their own systems, but in many cases this does not offer a guarantee of trouble-free system operation of the automated warehouse.
When is industrial flooring a key factor in warehouse automation?
When building a new robotized/automated warehouse
One of the most important elements for a trouble-free operation of your automated warehouse (or the warehouse automation itself) is a proper industrial concrete floor. Already at the design stage, but before starting the construction, it is essential to define the parameters that are essential to ensure the expected operation.
E.g., selection of expansion profiles, casting technology, accuracy of flatness and levelness, and its assurance, possibility/necessity of possible corrections, etc.
This needs to be agreed upon by the Client-Designer-Flooring Contractor-System Supplier-Operator "pentagon":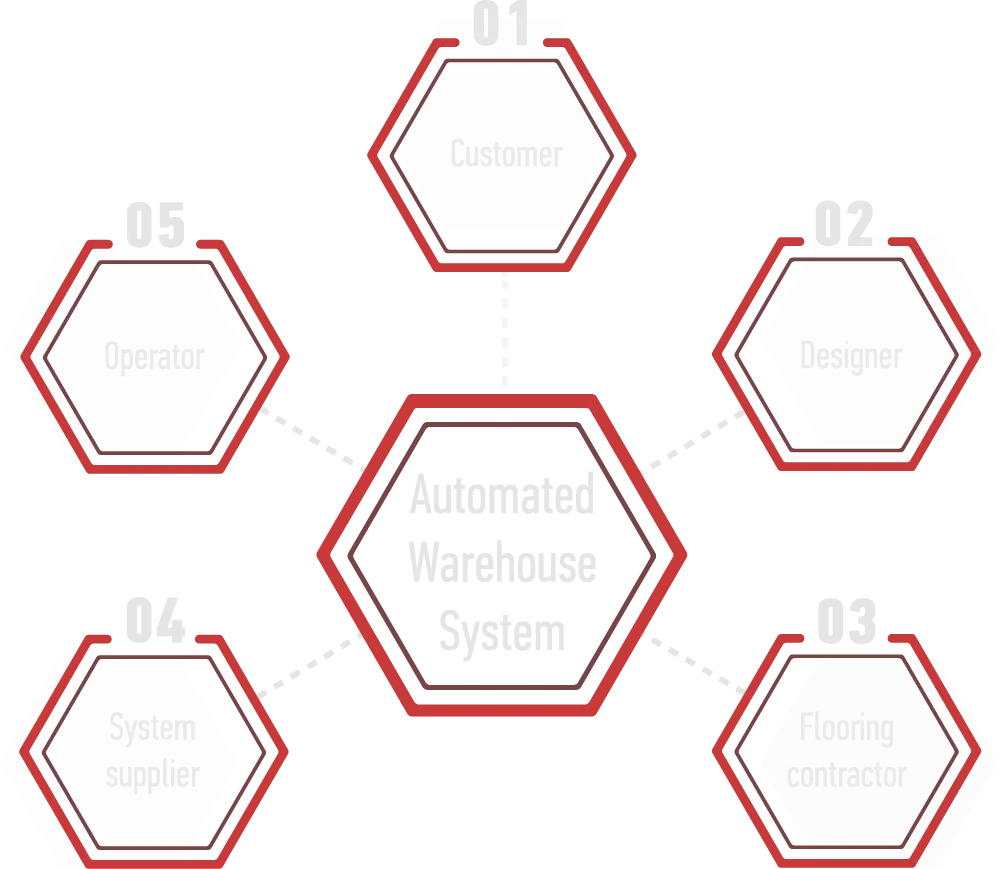 For the renovation of older warehouses
There is an increasing need to increase the capacity of an older warehouse, whether it is a conventional wide aisle or a VNA (narrow aisle) warehouse. In 90% of cases, the industrial floor of these warehouses does not meet the requirements of self-propelled/robotic/automated technologies. Thus, their economic-friendly conversion requires special knowledge and skills in industrial flooring.
The significance of industrial floors for warehouse automation
What assistance do we offer for our partners in designing AGV, ARM and AutoStore systems, namely in the warehouse automation processes and the migration to these systems?
As an industrial flooring specialist, consultant and moderator, we help to align the "pentagon".
We provide support in creating the floor surface that best serves the chosen automated warehouse system. We don't just think in terms of flatness; we integrate industrial flooring as an essential part of the overall system.
Through our QA and QC methods, we ensure and control the whole process of design and floor construction.
We support you with world-class technology during the construction process. By this we mean that we implement laser scanners and augmented reality on-site. This way, we can use real-time data to make immediate (even on concrete in a malleable state) interventions, corrections and signals!
We can combine the above technology with the truly user-friendly benefits offered by F-numbers and D-meter, if the task requires it. It really is uniquely capable of supporting the achievement of the desired result when it comes to warehouse automation.
Using the FARO S 70 laser scanner with the AR based "Flatness check" and the D-meter, we provide a credible, documented report of the floor surface, documenting and locating any out of tolerance points and areas in the prospective automated warehouse.
If there is a need for spot grinding – which often has to be anticipated due to the available technologies/techniques – we will provide on-site assistance to carry it out at the lowest possible cost.
Our versatile range of services can provide the expert help that we believe is essential from a specialist. If you take our advice on industrial flooring in your warehouse automation, we can guarantee you the results you expect!